MUMBAI: Slowdown in growth impulses is expected to drive the Reserve Bank of India's monetary policy committee to cut interest rates in its maiden policy for FY20 on April 4.
Despite growth in deposits lagging credit growth, RBI governor Shaktikanta Das is expected to announce a 25-basis point reduction in the repo — the rate at which the RBI lends to banks — by 25 basis points.
In addition to anticipating a rate cut, banks are also waiting to see what policy tweaks the RBI announces, along with its monetary policy. In terms of an earlier timeline, banks were to force large corporates to shift to bond markets from April.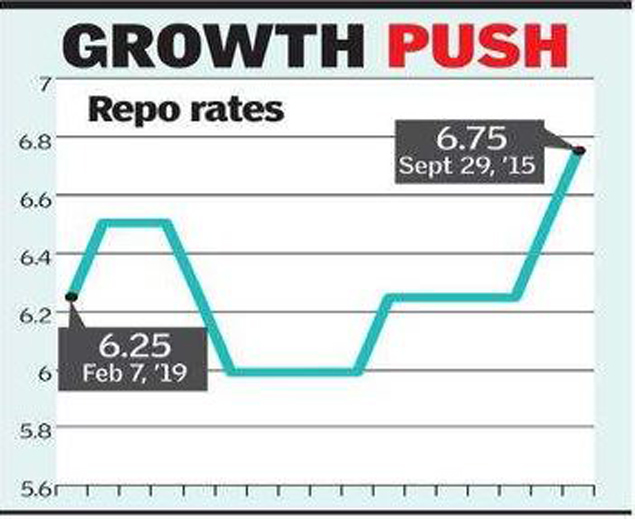 The RBI has already diluted its stance on two main policy issues — the need to link retail loans to an external benchmark from April 1 and the need to adopt Ind AS accounting standards.
"Given the benign inflation trajectory is well within RBI's target of 4% we are likely to see another 25-bps rate cut on April 4," said Shanti Ekambram, president, consumer banking, Kotak Mahindra Bank.
She added that consumption has eased and the investment cycle is still slow and the April rate cut is unlikely to be the last for the year. Even after a 25-basis point cut in the repo rate in February, lending rates have hardened as banks looked at ways to increase deposits.
To address liquidity concerns, the RBI undertook a rupee-dollar swap with banks which resulted in nearly Rs 35,000 crore of liquidity being injected into the banking system before the fiscal year-end.

If the RBI cuts the repo rate, the benchmark will be back at 6% as was the case in April 2018. Former RBI governor Urjit Patel had announced two rate hikes — in June 2018 and August 2018 — when rising oil prices threatened to fuel inflation in India.
Goldman Sachs, which had said that the RBI was likely to hold rates, has now revised its view to a rate-cut. Besides cutting its interest rate, the RBI is also expected to take measures to ensure that borrowers get the benefit of rate cuts.