MUMBAI: There is all-round growth in lending with bank credit rising by Rs 2.05 lakh crore in September 2018. This is nearly 70% of the Rs 2.95-lakh-crore credit growth during the first half of FY19. However, even as banks see galloping credit growth, liquidity in the system is not keeping pace, resulting in banks remaining cash-deficit in the money markets for the last fortnight.
The Reserve Bank of India (RBI) on Wednesday released the sectoral deployment of bank credit, which shows that there was a sharp pickup in economic activity in September. Bank credit as of September this year was Rs 80.25 lakh crore, up over Rs 2 lakh crore from Rs 78.19 lakh crore in the previous month. In September 2017, it was Rs 72.13 lakh crore.
Although the banking system had moved to a liquidity surplus of almost Rs 50,000 crore in early October following some easing by the RBI, the situation reversed in the last fortnight with the deficit crossing the Rs 1-lakh-crore mark last week. Part of the reason for the credit surge is an increase in loans to non-banking finance companies (NBFCs), which shifted their borrowings to banks after liquidity dried up in the debt market.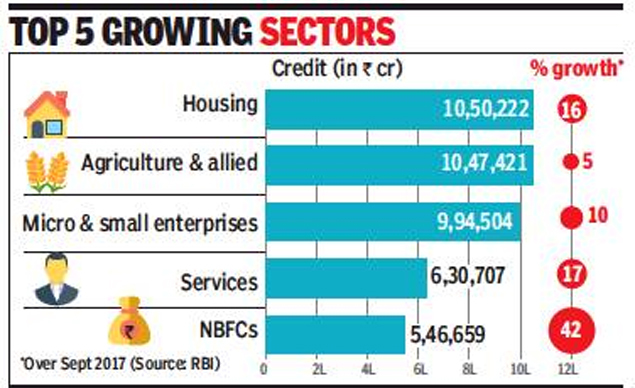 However, even if the Rs 50,300-crore of additional loans to NBFCs in September were taken out of the credit growth in that month, the rise in advances is still substantial. Of the remaining Rs 1.5-lakh-crore growth, Rs 10,000 crore went to large corporates, Rs 27,500 crore went to retail, another Rs 16,000 crore went to infrastructure, including construction, and around Rs 9,000 crore to chemicals.
"The sharp growth in credit across sectors shows that something is cooking in the economy," said SBI chief economist Soumya Kanti Ghosh. The sectoral data for the month of September indicate that all are showing a growth in credit. Most of the credit offtake happened in the NBFC and large corporate business segments. Credit to major sub-sectors such as 'infrastructure', 'textiles', 'chemical & chemical products' and 'all engineering' accelerated.

On a year-on-year basis, credit growth at 14.4% has been at a four-year high. Deposit growth has, however, not kept pace, growing at only 8.9%, which is slower than 9.2% last year. "There is a liquidity crisis. System liquidity being in deficit mode along with relentless FII outflow is imparting an upward bias in government bond yields. This bias is worrisome and the central bank should take cognisance of this when the global environment remains uncertain," said Ghosh.

Besides FII outflows, what is precipitating liquidity shortfall is the sharp foreign exchange market intervention. Together, these may have drained up to $13 billion, which is roughly Rs 96,200 crore from the system.

One of the triggers for the surge in bank lending appears to be the problems faced by the finance companies in the wake of the IL&FS default. With mutual fund support to finance companies drying up, their lending capacity has shrunk and banks are stepping in to fill the void.

Given the situation, the Confederation of Indian Industry made a representation to the RBI on Wednesday, seeking bank investment in securitised assets of finance companies, refinance support by National Housing Bank and liquidity infusion by the RBI.